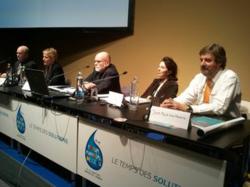 (PRWEB) March 23, 2012
On March 22, World Water Day, Secretary of State Hillary Clinton pledged to bring together American diplomatic, scientific, private sector, and development stakeholders to address global water challenges. This initiative was inspired by a 2010 World Water Day speech in which she said:
By focusing on our strengths and leveraging our efforts we can deliver results that are greater than the sum of the parts regardless of whether were working on watershed management, efficiency, production, or sanitation, we need to look at this challenge holistically.
Today, about 1 billion people worldwide lack reliable access to drinking water and another 2.5 billion lack access to sanitation. Many of our groundwater resources are being tapped faster than rain and snow can replenish them. Our energy future and economic prosperity are increasingly tied to properly managing the finite water we have. Many of our planets natural environments are threatened by water use or misuse. Considering these water challenges, AWRAs President William Battaglin stated The U.S. Water Partnership is a step in the right direction and should help bring together the intellectual, financial, and creative resources needed to solve the global water resources challenges of the future.
The Secretary of State clearly acknowledged that water is an issue of health and sanitation disease from waterborne illnesses remains one of the worlds largest killers. She also underscored water's growing importance in national and international security. The announcement of the U.S. Water Partnership reflects a refreshing and sophisticated appreciation for water. It includes the realization that an impending lack of reliable water resources threatens the worlds safety and prosperity; that more than one agency and one approach are needed to mobilize water expertise and resources to address the challenges around the globe.
Since its founding in 1964, the American Water Resources Association (AWRA) has believed that challenges related to water resources must be addressed holistically through multidisciplinary partnerships with meaningful stakeholder involvement at all levels. An integrated approach for managing water resources can no longer be optional. AWRAs goal is to educate, inform, and network our scientists, engineers, water managers, and community leaders so that together we can best solve local and international water resources challenges, said Battaglin.
More information about USWP is available on its newly constructed website, http://www.uswaterpartnership.org. Secretary Clinton's March 22 speach can be found at http://www.state.gov/secretary/rm/2012/03/186640.htm. Information on AWRAs approach to Integrated Water Resources Management is available at http://www.awra.org/policy-statements.html and by contacting Mary Ashton, mary(at)awra(dot)org, 540.687.8390
ABOUT AWRA: The American Water Resources Association is dedicated to the advancement of water resources management, research, and education and a balanced approach towards solving water resources challenges. AWRAs membership is comprised of professionals who share a common interest in working and learning across a wide range of multidisciplines focused on water resources policy, practice, and academic pursuits. Members include engineers, foresters, biologists, hydrologists, geologists, chemists, ecologists, GIS professionals, geographers, planners, soil scientists, economists, attorneys, planners, educators, students, community leaders and policy makers.